#GartnerBI: Data And Analytics Enhance Corporate Efficiency
Recently Las Vegas was abuzz with business intelligence professionals from across the globe excited to learn of the latest trends at Gartner's 2014
Business Intelligence & Analytics Summit!
After several engaging keynotes and informative workshops, the Xprtly! team came away with four key validating and thought-provoking insights:
1. Every Company Is A Data Company (Thus, data needs to be recognized as a corporate asset on the balance sheet.)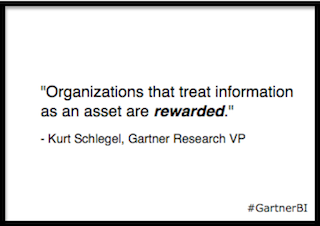 The Gartner analysts' position that every company is a data organization highly
resonates. It was certainly consistent with our vision of Xprtly!. Gartner took this notion a step further by suggesting that data be recognized as a
corporate asset. While exciting, their position could potentially have serious financial ramifications. Data, and more importantly, its derived intelligence, are still perceived as a "blue sky" asset and, similar to trademarks, are not easily valued. This can lead to under or over valuation that may prove to be beneficial or harmful at the time of IPO, acquisition, or changes in the market.
2. Analytics Make Business Processes Smarter
Yes! Yes! Yes! This has been a strongly held conviction for years by BI strategists and organizations, and now it's finally apparent across the business industry! The insights provided by analytics can contribute to the enhancement of corporate productivity. If something is measured and analyzed, it can be tweaked and improved! Take for example a customer service center which performed a Pareto analysis on complaints that they had received. They discovered that 75% of the complaints were due to only three causes. In this situation, analyzing the data enabled the center to know what they needed to focus on, thereby contributing to the enhancement of the business processes.
3. Competitive Companies Are Moving Toward Predictive and Prescriptive Analytics
If an organization is digitizing decision making processes that are appropriate for its operations and environment, and it recognizes the importance of its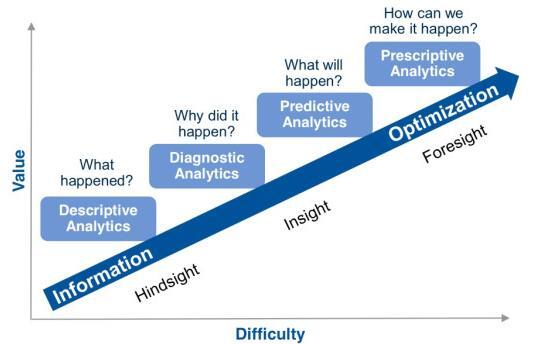 data assets, and it is using its business analytics to improve its processes, the next logical step is asking the questions: "What could happen next?" (Predictive analysis) and "What should we do about it?" (Prescriptive analysis).
4. Decision Making Is the Last Process To Be Digitized
Digitizing a decision making process isn't straightforward or simple. On the one hand, there are numerous decision processes that probably can be digitized with successful outcomes. For example, banks rely upon a digitized decision process for lending. Conversely, it's difficult to envision how decision-making processes that rely heavily upon human judgment (i.e., a jury verdict for a civil or criminal trial),would be digitized effectively. Still for corporations, digitizing decision processes can lead to a reduction of unnecessary spends on inefficient progressions.
Hence, if we're clear that analytics make business processes smarter and competitive companies are moving toward predictive and prescriptive analytics, what can organizations do to take a step in the right direction? How about instigate a process that digitizes decision making while providing insight into how the process is conducted and how it can be improved? Where might one find such a tool? Look no further than Xprtly!
The #GartnerBI Summit may have been held in Las Vegas, where the risk levels are daunting, but there is no greater risk a corporation can take than not having the right data and analytics when a decision needs to be made! That's where Xprtly! can help make your work life easier!